AAAC Raccoon Removal & Control In Charleston WV
Charleston's most gentle and complete raccoon control service!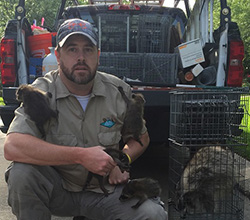 Brett & Shawna Jenks
Certified Wildlife Professional
Humane Certified Professional
Wildlife Management Professional
Member of NWCOA
PO BOX 273
Louisa, KY 41230
Call Today: 304-584-1556
Or Text To: 304-584-1556
E-mail us: [email protected]
Raccoon Removal in Charleston, Huntington, WV, Louisa, Ashland, Morehead, KY and Portsmouth, OH
Raccoon Removal Charleston WV
Raccoons are a big problem for lots of homeowners and businesses in Charleston, Huntington, Summersville, and nearby cities, towns, and communities. Outside of their native habitat raccoons are frequently found living in attics, crawlspaces, sheds, and even in cars. Call 304-584-1556 to learn about your options today!
Raccoon Removal and Control needs to begin as soon as raccoons have been discovered living in your attic, crawlspace, shed, or other area too close for comfort. Raccoons can cause an extensive amount of damage and the area that they are living in can quickly become contaminated with urine and feces.
Raccoon Removal should only be performed by wildlife professionals knowledgeable of raccoon habits and the dangers that can come with attempting to remove them. For instance, raccoons frequently seek out attics, crawlspaces, and sheds to have and raise their young. Many amateurs are unaware of this and will sometimes manage to trap the mama raccoon. This leaves the babies to die in the attic or crawlspace and is an invitation to other animals and insects to invade your home.
Raccoons are known to be carriers of rabies, listeriosis, leptospirosis, and other serious diseases. Wildlife professionals have the tools and training to safely, efficiently, and humanely remove these nimble and strong animals.
Raccoons do occasionally die in unexpected places and should be removed as soon as possible. Dead raccoon removal and deodorization of the area is an additional service we provide. Leaving a dead raccoon will only make the problem worse, as it will attract other animals and insects.
A All Animal Control of Charleston, WV is your local wildlife professional that can get rid of your raccoon infestation quickly, effectively, and humanely. For your local Raccoon Control Expert, call A All Animal Control of Charleston, WV at 304-584-1556
Ask us about our Attic Restoration service