AAAC Beaver Removal & Control In Charleston WV
Charleston's most gentle and complete beaver trapping service!
Brett & Shawna Jenks
Certified Wildlife Professional
Humane Certified Professional
Wildlife Management Professional
Member of NWCOA
PO BOX 273
Louisa, KY 41230
Call Today: 304-584-1556
Or Text To: 304-584-1556
E-mail us: [email protected]
Beaver Removal in Charleston, Huntington, WV, Louisa, Ashland, Morehead, KY and Portsmouth, OH
Beaver Control Charleston WV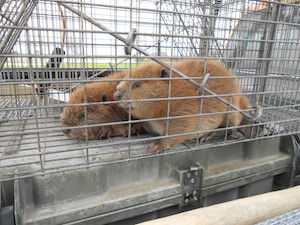 At A All Animal Control of Charleston, WV one of the most popular species of wildlife that we are called upon to control is beavers. Beavers can be found living in sheds and under porches. Beavers can cause extensive property damage through their gnawing of trees and they are frequently a nuisance even in their own habitat due to their habit of damming waterways. The majority of beavers also carry a parasite, called Giardiasis, causing the illness to also be known as "beaver fever."
Beaver control and removal should only be attempted by people who understand this animal and the laws concerning beaver control and removal. Wildlife Professionals understand this animal and have the knowledge and tools to safely handle these animals. The Wildlife Professional will quickly remove a beaver from your property. A All Animal Control is your local professional that can get rid of your Beaver.
Trapping a beaver or beavers humanely is important to prevent injury to the animal. Getting rid of a beaver is a process that should be carried out with proper planning and procedures. Beaver removal can be done in an efficient manner with the proper tools and training.
Capturing a beaver is a potentially dangerous situation that may require the Wildlife Professional to risk being bitten by the animal. Untrained persons should not attempt to remove a beaver. Call the professionals at A All Animal Control for immediate assistance!
A All Animal Control will work to solve your beaver problem quickly and humanely. We remove beavers using only the latest technology and equipment available.
Get rid of beavers the right way before the problem gets out of control!
Dead beaver removal and deodorization is a service that we provide. Beavers do occasionally die in unusual places and they must be removed as soon as possible. Leaving the beaver will only make the problem worse and attract other animals and insects.
A All Animal Control of Charleston, WV is your Beaver Control Specialist. If you have a nuisance beaver, call us at 304-584-1556.